☁ Napdraws' Vtuber Designs ☁
SAKURA DEER ADOPT:
Owned by BahamutVtuber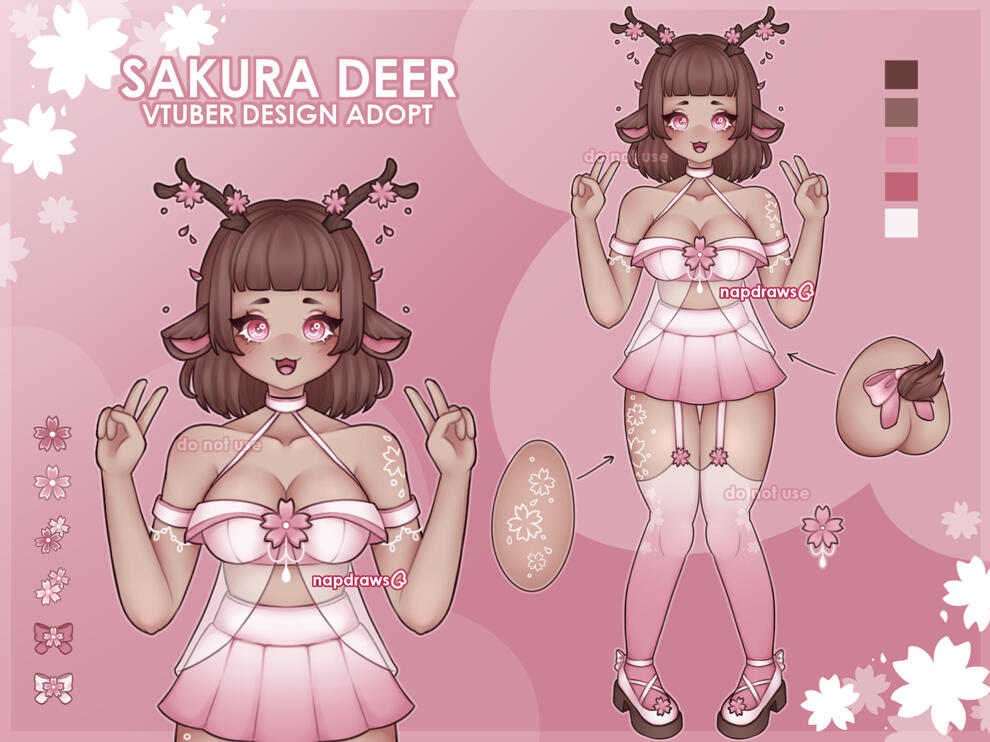 Queen Bee ADOPT:
Owned by hrhbrittney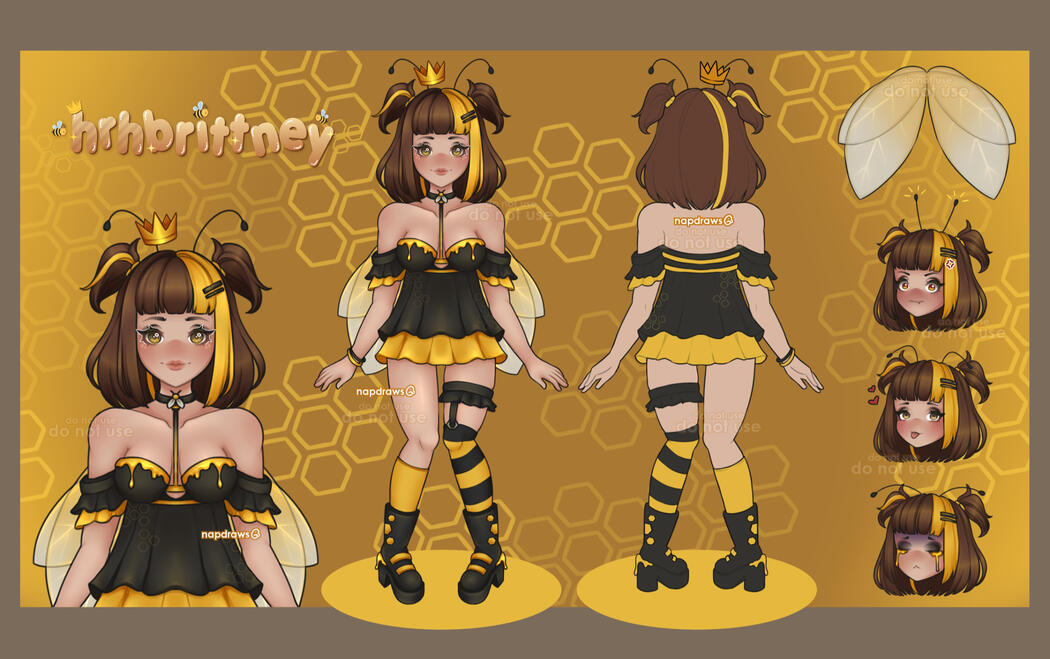 If purchased please credit me as your designer!
---
---
☁ Napdraws' TOS ☁
Please let me know if your order is a secret order.
If you would like your order to not be streamed on Twitch you MUST let me know ahead of time.
Do NOT use my work for NFTs.I require finished references before accepting an order. Please do not come to me with bits and pieces of google images or a long detailed paragraph explaining what you are wanting to commission; it will be denied.PAYPAL only.Additional charges on work may be added depending on complexity. Prices shown on the price list are base prices; therefore can be raised if the order has a lot of details or additions.I DO NOT allow resells of my artwork. If you have received a piece from me of a specific OC (original character) that you plan to sell; you must exclude my piece from the bundle.Do not sell my artwork off as your own.I reserve the right to use my artwork for advertisement and portfolio.Once the first WIP is completed, a refund is not permitted. All changes to order must be made before the full product is delivered. I will not backtrack your order once I have finished it entirely. I typically will not offer big changes after WIP has been approved.Failure on my part to deliver a product within a suitable amount of time (under two months) as agreed on by myself & the purchaser will result in a full refund.Purchasing art from me grants you any PERSONAL USE of your digital copy. If you have a specific intended use for the commission that you are unsure if I will allow; ask me.Personal use encompasses, but is not limited to: The posting of art in character galleries, cropping for icons and/or graphics, posting on socials with credits. Please discuss with me personally if you wish to use your art for other PERSONAL uses that do not fall under these categories. I do allow PNGtubers to use my artwork for PNGs on Twitch.COMMERCIAL USE is an additional +30% of what the commission is priced at. If you intend on using art you've commissioned from me as merch or anything that falls under commercial use you MUST pay that additional 30%.Do not alter or edit any piece from me. Cropping is permitted for icons or resizing requirements for certain media. However, if it is a specific canvas size you need from me, let me know before payment to ensure quality.If you are looking to commission work for COMMERCIAL USE such as merch; please state so. I have additional charges.Payment is made via PayPal or Ko-Fi. I take payment up front and/or after WIP. It is up to the customer to decide which they prefer. I take payment in full; no partial payments allowed.
Please be clear if you would like a time limit for your commission delivery.I do not allow due dates earlier than 2 weeks. I will charge you an additional amount for rush orders.
---
DOs: feminine (men), cutesy, dark/gothic, hand gestures, plushies, multiple eyes, suggestive poses etc.DONTs: Masculine, furries (nekos, viera, more 'humanized' things are fine), mecha, multiple arms, fetishes, nude, lolis, snakes.I don't often accept commissions with IRL selfies as references.There's not many things I won't draw.
Just ask if I didn't mention what you're curious about!NOTE:
Please pay mind to my art examples. I do not do 'normal' noses on my work. I tend to lean more toward blush noses because I like them. Let me know ahead of time if you want me to actually draw one.
If you do not have a Twitter; feel free to contact me via any of my social medias.